K-1 Visa Flow Chart
For Fiancees and Fiances of U.S. Citizens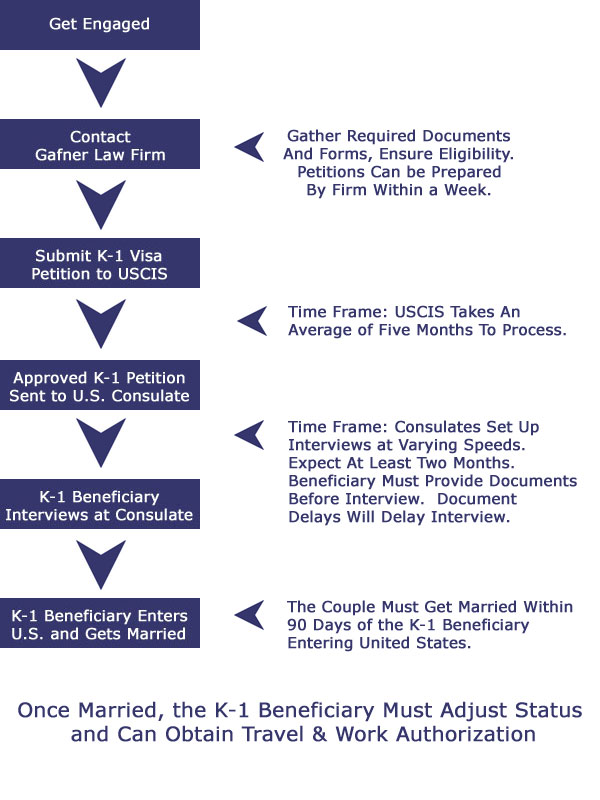 Fiance Visa Process
The K-1 Visa process for fiances and fiancees of U.S. citizens is a multi-stepped process that can take longer than one would expect.  This process can be further delayed if mistakes are made in the petition and if incomplete documentation is provided to the government.  Avoiding these mistakes is key, and a fiancee visa lawyer can assist in ensuring that the process is completed as quickly as possible.
Step One.  Get Engaged
A couple must be ready to marry once the foreign national fiancee or fiance enters the United States on the K-1 visa.  Thus, both individuals need to be ready and willing to marry.  This means that any previous marriages must be terminated before the process can begin.
Step Two.  Contact Gafner Law Firm
Once engaged, a couple should contact a fiancee visa attorney who can provide them with sound legal advice as to their eligibility and what documentation is required during the process.  Knowing what to expect makes the process go much smoother.
Step Three.  Submit the K-1 Visa Petition to the USCIS
Once a K-1 visa lawyer reviews your case and prepares the K-1 visa petition (complete with required documentation and forms) for you to review, the petition can be submitted to the USCIS.  The USCIS is currently taking about five months to process petitions.  This time frame can be extended if the required documents are not submitted the first time.
Step Four.  Approved K-1 Petition Transferred to U.S. Consulate
Once the USCIS approves the K-1 Visa petition, it is sent to the designated U.S. Consulate.  The consulate will then contact the K-1 visa beneficiary and schedule an interview.  Before the interview can be scheduled, the K-1 visa beneficiary will need to provide required documentation and forms to the consulate.  A fiancee visa lawyer can ensure you have the required forms and documentation.
Step Five.  K-1 Beneficiary is Interviewed At the Consulate
Once all of the required documentation is gathered, it will be required for the K-1 beneficiary to attend an interview at the U.S. consulate.  Only the K-1 beneficiary needs to attend the interview, and it is rarely allowed for any other individual to accompany the beneficiary.  A fiance visa lawyer can help the K-1 beneficiary prepare for the interview by letting the individual know what to expect at the interview.
Step Six.  K-1 Beneficiary Given K-1 Visa and Allowed to Enter United States
Once the K-1 Beneficiary successfully completes the interview, he or she will be given the actual K-1 visa and will be allowed to enter the United States for the sole purpose of marrying the U.S. citizen petitioner.
Step Seven.  The K-1 Couple Gets Married Within 90 Days
Once the K-1 beneficiary enters the United States on the K-1 visa, the couple is required by law to get married within 90 days.