K-1 Fiancee Visa: Extreme Hardship Waiver
The K-1 fiance(e) visa allows a U.S. citizen to sponsor his or her foreign national fiance(e) to come to the United States and marry.  Once married, the couple can apply for the foreign national's adjustment of status, advanced parole and work authorization.  With these benefits, the foreign national will become a green card holder (lawful permanent resident) and may eventually become a U.S. citizen.  The K-1 fiancee visa is the first step in the process.
The K-1 process begins when a couple files a petition with the USCIS and demonstrates their intention to marry and have personally met during the two years preceding the application.  The meeting requirement is steadfastly enforced and can only be waived in two distinct circumstances.  The first is if the meeting requirement would cause extreme hardship to the petitioner.
So, what is extreme hardship?  For starters, extreme hardship only applies to the U.S. citizen.  Hardship felt by the k-1 beneficiary is not considered by the USCIS in determining eligibility for the extreme hardship waiver.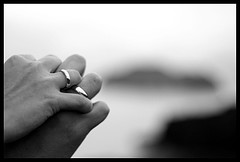 Whether a U.S. citizen will suffer extreme hardship is a decision made by USCIS and is based on the unique facts presented in each specific case.  However, K-1 fiance visa lawyer Chris Gafner has reviewed many USCIS decisions on this matter and has found some pattern in the USCIS's determination of extreme hardship. Many applicants have claimed that their lack of money creates an extreme hardship  because they cannot afford to travel to the personal meet.  Unfortunately, the USCIS commonly rejects this argument saying that economic hardship is not extreme hardship.  Most often, the USCIS determines that extreme hardship would occur due to the k-1 petitioner's medical condition.   However, the waiver application must thoroughly demonstrate that the petitioner's medical condition would place him or her in extreme hardship if he or she were to travel.  Often, it is necessary to demonstrate that a beneficiary cannot fulfill the meeting requirement by coming to the United States to visit the petitioner (and then return to the home country to await the filing of the K-1 visa).
The K-1 fiancee visa waiver is difficult to obtain and a waiver application should not be undertaken without the guidance of an experienced K-1 fiancee visa.  If you fail to obtain a lawyer's assistance,the possibility of having the waiver application denied is greatly increased.  Please contact Gafner Law Firm to start your k-1 visa today.  The firm is a New York City fiancee visa law firm capable of assisting clients from throughout the United States and the world